Online Therapy Program for Compulsive Skin Picking
Imagine a world where your behaviors don't run the show.
You no longer think in limitations, and instead feel free to live life on your terms.
Suffering from skin picking is a constant struggle for control of your body and your life. Therapy is the key to recognizing your triggers and building the tools needed to change your response to them.
You've done the research. Now is the time for action.
We created our program to provide everyone with access to therapist-guided Cognitive Behavioral Therapy. The most effective treatment for this disorder to date, CBT helps patients develop important tools and strategies for dealing with compulsive behavior.
Together we will set goals and bring about changes that will allow you to stop picking and start living.
Learn more about how our guided CBT-based program works.
Evidence based therapy that works.
Our program uses Cognitive Behavioral Therapy (CBT) to help you identify skin picking triggers and retrain your brain. CBT is considered the most effective way to treat compulsive skin picking among specialists for the disorder. This therapy is effective because it empowers the patient to develop responsive skills and strategies.
Professional guidance every step of the way.
Your case is unique, and your treatment should be too. We connect you with a personal therapist who will lead you through the program and provide individualized support. Every therapist is trained by the TLC Foundation for BFRBs (body focused repetitive behaviors), and specializes in the treatment of skin picking with cognitive behavioral therapy.
Work and grow from the comfort of your own home.
Your privacy is important. This is a 100% online program, which means that you can participate from wherever you'd like. Nervous about opening up face-to-face with a therapist? Your communication with your therapist is text based via our secure messaging system.
A fraction of the cost of traditional therapy.
We developed this program to make therapy available to everyone. Full monthly access to the program costs the same as roughly 1 hour of traditional therapy. Even better, studies show that online CBT-based therapy is just as effective as face-to-face therapy.
Meaningful therapy from any device.
The beauty of a 100% online program is that it is built to fit your lifestyle. With no need to schedule sessions or visit a therapist's office, you can access the program when it's most convenient. Enjoy compatibility with laptops, smartphones, and tablets.
Keep things confidential.
We understand the personal nature of this program. Special care is taken to secure your information. Anything you share with your therapist is under therapist-client privilege (a confidentiality agreement). You may even remain anonymous if you wish.
What Our Clients Say
Like tools in a tool belt, this program gave me useful and practical tools that I needed first to understand and then to deal with my skin picking behavior. Even after finishing, I'm still reviewing and practicing the things that I learned. I'm encouraged and hopeful for how the things I've received will continue to benefit me and others. And i would recommend this program to anyone looking for help!
First of all, I want to say THANK YOU!! You have been such a tremendous help and I am so grateful for that. You have truly changed my life because picking no longer rules it. I would love to provide my feedback: My experience with this program has been nothing short of amazing. Before the program, I felt alone and like I would never be able to stop picking my skin. Now, I don't have any problems whatsoever with skin picking. I will forever be grateful for this program! I would absolutely recommend it to someone who needs it. It works!
I would absolutely recommend this program for someone who is dealing with similar behaviors such as skin-picking. The program helps you to break down what seems like an insurmountable issue that you have no control over into smaller, more manageable pieces. Investigating the whys of the behavior is the first step in stopping it. Thank you for helping me to gain some control back in my life. I can leave my house without makeup on!
HOW IT WORKS
Counseling
Connect with a personal therapist for individualized support. Communication with your therapist is secure and text-based, allowing you to respond whenever is most convenient for you.
Program
Retrain your brain and develop responsive skills and strategies with proven methods. Online content-based sessions allow you the freedom to progress at your own pace.
Self-Monitoring App
Throughout the program you will use our self-monitoring app to document your behaviors. Your therapist will have access to your log, providing them with a comprehensive view of your case.
Client Testimonials
I would sum up this experience as life changing. I learned more than I ever thought I could about my condition and along with that information, I was given the tools to successfully overcome my picking problem. It was extremely beneficial. I would recommend this program to anyone and everyone suffering from this type of behavior. This program is worth every penny and I am so thankful I went through with it. I have taken what I have learned and applied it to not only my picking problem but to several other areas of my life. Because of this program, my life and my outlook on life has improved significantly. I am very grateful for SkinPick and my therapist!
If you'd told me I'd be where I am now back at the beginning I would not have believed you. I have not engaged in serious picking for weeks - perhaps 5-6 weeks- and my hands have healed so that I don't have to hide them and am starting to feel normal. I still notice strong urges when under stress and am aware I have not been tested more seriously, but I am applying the strategies daily and am overcoming the urge to pick - even leaving loose pickable skin alone. I could not have done this without the CBT program and am very grateful.
This program has equipped me with several tools that I can use not only to decrease the amount of skin picking that I do, but also to become aware of and address the triggers that lead up to the skin picking. I love that this program focuses on changing the way you process your thoughts and instructs you on how to reframe them as well as focusing on the actual physical behavior. I would highly recommend this program to anyone who struggles with skin picking or similar behaviors. I have tried so many other things and I am happy to have finally found a program that helps now and will continue to help me for a long time to come.
Build Your Own Tools
Take a sneak peek at some of the coping techniques you'll learn over the course of the program.
Awareness
How to be more aware of your picking, by recognizing and understanding your behaviors.
Replacement Techniques
How to minimize picking by replacing it with alternative behavior.
Reduce Environmental Triggers
How to minimize picking by reducing triggers in your environment.
Acceptance
How to stop controlling your urges and start accepting them.
Distance
How to distance yourself from your thoughts and urges.
Goal Setting
Set life goals based on your values and learn to live your life to the fullest.
We've empowered clients all over the world to take control of their behaviors, and their life.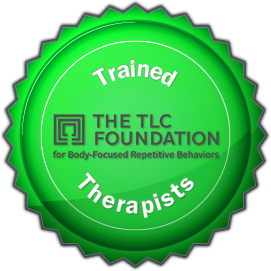 We've treated thousands of clients with body focused repetitive behaviors from over 20 different countries.
Our programs have been featured in the following publications:

















By the Numbers

Reduction in symptoms during the program
92%
Percent of clients experience reduction in symptoms after just 3 weeks
91%
Percent of clients experience significant reduction in symptoms (>20%) after two months with Skinpick
91%+
Percent of clients who finish the program would recommend it to others with the same condition
Stop Picking. Start Living.
Prior to joining this program, our average client had suffered from compulsive picking for 16 years. That's 5840 days of living with picking compulsions.
Are you ready to experience substantial reduction in your picking and see real improvements in your life in just a few short weeks?
A word from one of our clients
I have recommended this program to three estheticians. I hope that they will share it with people who compulsively pick. I think that many people suffer from this behavior privately and feel a great deal of shame about it. I want to tell them there is help available which is both accessible and affordable. Sharing this information with others has been helpful to me, reducing shame and cultivating willingness to openly acknowledge and address the behavior. I started this program because I was hurting. This program and the therapist brought healing, understanding, and compassion for my own suffering and that of others. There is a way to end the suffering caused by skin picking. I hope others will discover it and give themselves the gift of healing, self-forgiveness, and constructive action that can be found through this program. I cannot recommend it highly enough.