On the Horizon: Biomaterial-Based Physical Treatment Strategies for Skin Picking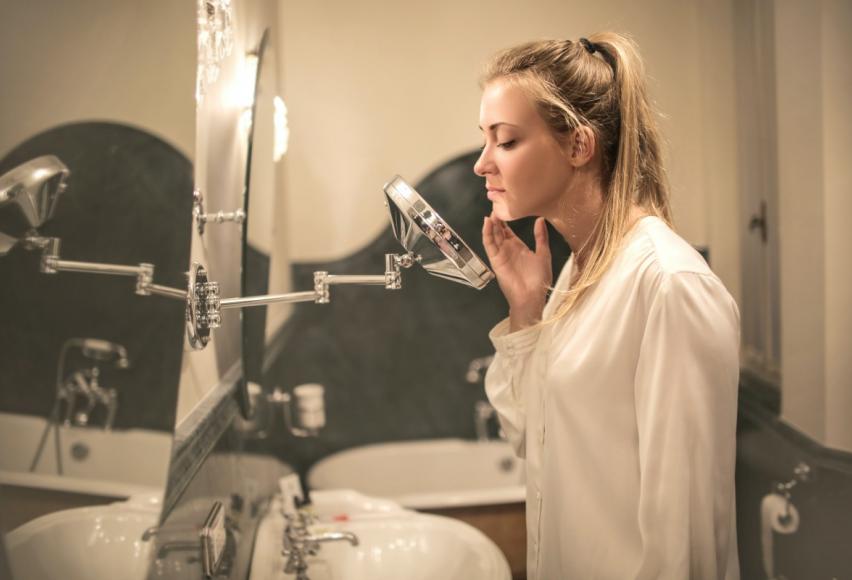 If you or a loved one are living with a skin picking disorder, you've probably searched for treatments and strategies that can actually help reduce the picking episodes. Current treatments such as dermatologic treatments, behavioral strategies like Habit Reversal, and medications offer some relief but are not particularly effective. In fact, one survey found that about 11% of respondents reported being able to control their behavior. Of the remaining respondents, 48% reported being somewhat successful, and another 42% being unsuccessful. More than 85% of those responding thought that there should be better treatment modalities than what is currently available.
In your search, you may have come across the term "biomaterial-based physical treatment" and wondered just what that means. Biomaterial-based therapies are applications used to promote tissue repair and functional recovery. These therapies are used in various medical applications and procedures including orthopedics, dental work, cardiovascular procedures, regenerative medicine, and wound healing. They may be derived from cells or from certain biological substances compatible with tissue, such as the skin. In the case of skin picking, biomaterial-based physical treatment strategies are the use of biologically-derived physical barriers placed on or over the skin intended to reduce picking behavior.
Barrier strategies are not anything new to people who pick. In fact, studies have consistently found that people with this condition tend to use some kind of physical barrier or concealer to conceal their skin injury or discourage picking. So, if current treatments are ineffective, and people are already turning to various barriers, could these biomaterial-based physical barrier strategies offer people who deal with skin picking another option for reducing their symptoms?  New research takes a closer look at these physical strategies and the promising role they could play in the management of skin picking.
What Makes A Good Barrier?
The idea behind a physical barrier is to make it harder to engage in skin picking and to protect skin integrity and healing. Physical barriers can be anything from make-up concealer to a certain lotion to long sleeves or gloves. Some may work better than others and better for some people and not others. In an effort to take barrier use from anecdotal support to scientific evidence, researchers reviewed the literature and identified the ideal properties of potential barriers:
▪ Biocompatibility (non-toxic and hypo-allergenic)
▪ Wearable, water-resistant, removable
▪ Skin camouflaging and aesthetically pleasing
▪ Mimics the mechanical quality of the skin (feels like skin but is tear-resistant)
▪ Breathable
▪ Anti-microbial
▪ Reusable
▪ Biodegradable
▪ Cost-effective
There are currently a number of biomaterial-based barriers currently being studied and identified as potential strategies for the treatment of skin picking. They have "science-y" names but they all represent simple, easy-to-apply topical treatment barriers.
Polymers/XP-L Technology
This silicone-based barrier is a topical cream that is applied to the skin. It is wearable and has shown promise in its ability to restore the skin's appearance and elasticity. Studies have shown it to be easy to apply and appropriate for everyday use as well as reducing the risk of skin injury from picking.
Nanoparticle Technology
Particulates are a class of biomaterials commonly used as delivery systems for targeted and controlled release of therapeutic agents. One type of particulate, known as nanoparticles with antimicrobial properties, such as silver nanoparticles, has been studied as a possible barrier strategy for preventing infection and further injury to already compromised skin. This approach shows promise in preventing infection of injured skin but remains under study.
Smart Materials
Like a smartphone, there are smart barriers to your skin. These are physical barriers that have the ability to deter skin picking and repair themselves if they are torn or damaged. Think patches or tape that can be applied directly to the skin. Early studies are showing promise with a number of smart barriers that may soon be able to help you reduce picking behavior and heal your skin.
3-D Printing
Yes, this is what you're thinking. 3-D printing is being used to create wound dressings that are unique to the person's body or wound. The resulting dressing may be treated with anti-microbial agents such as silver-, copper-, or zinc-loaded filaments. This technology can be used to develop patches or other wearables to promote healing, prevent skin damage, and prevent infection of damaged skin.
 
Many of these materials are already in use in other areas of skincare and wound healing, such as scaffold materials for skin substitutes, dermal reconstruction, and burn dressing. Research into their usefulness as barrier therapy for skin picking continues.
In the meantime, are there effective barriers available for people who live with skin picking?
Current Options
Barriers are not long-term solutions but short-term response prevention. They are a way to reduce or block the act of picking and protect the skin from further wounding. Some people use these barrier methods with some success. Others find them ineffective at best. Be mindful that for some people, barriers can make the urge to pick worse so you have to use your judgment and know what works for you. A few of the barrier strategies people use include:
▪ Bandages – whether the standard bandage or the flesh-colored bandaging tapes, gauze or wraps, bandages can offer you a temporary barrier to cover a triggering area.  
▪ Gloves – if you tend to pick at night, in your sleep, soft spa gloves might be helpful.
▪ Soothing cream – Replacing picking with the application of cream can help to avert the picking.
▪ Get A Fidget – Fidgets are great to occupy your hands and divert your attention away from picking. Not technically a barrier, but a great tool to keep handy.
▪ Finger cots – you've probably seen these little finger covers in the drug store. They fit over the fingertips and may help reduce picking.
The study authors advocate for the development of cost-effective and reusable skin barrier products that are aesthetically pleasing while restoring or maintaining skin barrier integrity. Having another tool to help manage skin picking can improve the comfort and quality of life for people living with a skin picking disorder.
With these biomaterials currently in use in other areas of medicine and wound care, research into their efficacy for skin picking continues, and hope for better treatment options remains.
References
1. Ravipati, P., Conti, B., Chiesa, E., & Andrieux, K. (2021). Supplementary Materials: Dermatillomania: Strategies for developing Protective Biomaterials/Cloth. Retrieved from https://www.mdpi.com/1999-492 3/13/3/341/s1
2. Ravipati, P., Conti, B., Chiesa, E., & Andrieux, K. (2021). Dermatillomania: Strategies for developing protective biomaterials/Cloth. Pharmaceutics, 13(3), 341. doi:10.3390/pharmaceutics13030341
3. Bouthillette, M., Beccati, D., Akthakul, A., Ramadurai, N., Nashat, A., Langer, R., Anderson, R. R., & Sakamoto, F. H. (2020). A crosslinked polymer skin barrier film for moderate to severe atopic dermatitis: A pilot study in adults. Journal of the American Academy of Dermatology, 82(4), 895–901. https://doi.org/10.1016/j.jaad.2019.09.073
4. McLaughlin, S., Ahumada, M., Franco, W., Mah, T., Seymour, R., Suuronen, E. J., & Alarcon, E. I. (2016). Sprayable peptide-modified silver nanoparticles as a barrier against bacterial colonization. Nanoscale, 8(46), 19200-19203. doi:10.1039/c6nr07976h
5. Feula, A., Tang, X., Giannakopoulos, I., Chippindale, A. M., Hamley, I. W., Greco, F., … Hayes, W. (2016). An adhesive elastomeric supramolecular polyurethane healable at body temperature. Chemical Science, 7(7), 4291-4300. doi:10.1039/c5sc04864h
Start your journey with SkinPick
Take control of your life and find freedom from skin picking through professional therapy and evidence-based behavioral techniques.
Start Now