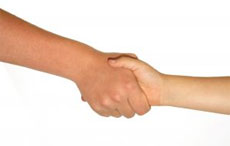 When I am informed by the website administrator about a new client purchasing a particular counseling package, I immediately send that client a welcome note. If I am too busy with clients at hand, we put up an alert about not being available till a specific time period. During that period, if I get an information about a client, I request him/her to wait till I am relatively free to work with him/her. Almost always clients comply and cooperate. In a welcome note, I request the client to read the terms of service. In this link, the website owner and myself as online therapist, have clarified our terms of service and have explicitly written about our expectations from our clients. We do not work with clients, who tend to provide false information or have illegal motivations or are suicidal.
Brief Consultation
Those who choose Brief Consultation - I try to send them questions right away to start our work. That saves time and helps client in maximum possible way to address what they have to share and work on. I let them know that this smaller package won't provide us enough chance to complete our therapeutic work. Its like a trial version or a very small snack. One is not fully satisfied. A client therefore might be wishing to have some more and that too in same price.
Counseling Program
Those who purchase a bigger package - I send them a questionnaire which is designed to get a preliminary information About the client. In this questionnaire all the items are optional. A client can choose not to reply. I have seen that in general clients do reply sincerely.
Clients Characteristics (acc. to Questionnaire)
I get a variety of responses/reactions in a reply to my question - "How did you feel while and after typing your answers?". Some describe it as a single emotion - feeling uncomfortable or OK or relieved or. Few clients have mixed emotions. Very few have some technical questions on the items in the questionnaire.
During exploration I found that some of the clients feel uncomfortable because they being shy and secretive and guilty, they feel embarrassed at the disclosure about their disorder.
Majority have this disorder since challenging phase of adolescence (age 12 to 20), few have it since early childhood (age 2 till 5). Very very few have it since adulthood (since 21 till 35).
Majority of our clients are females - young girls (15 to 20), young adults (21 to 35), middle aged ladies (36 till 60). Lately, I have worked with some older ladies above 60 years of age.
Very few clients were men in their middle age.
Some of the clients feel relieved to have a professional person to share their long standing suffering.
Most of our clients have one or two confidants with whom they had shared about their picking. These confidantes were sisters, husbands/wives, fiances, girlfriends, best friends..
Very few tried to talk about their picking with their parent, - either mother or father during their early middle age (age 36 to 45). Most of the clients shrunk at the idea of disclosing skin pickingto their parent/s.
Very few were worried thinking that our service might be a spam and I might not be a real person.
We thus end our formal hand-shaking and get down to real business from next session.