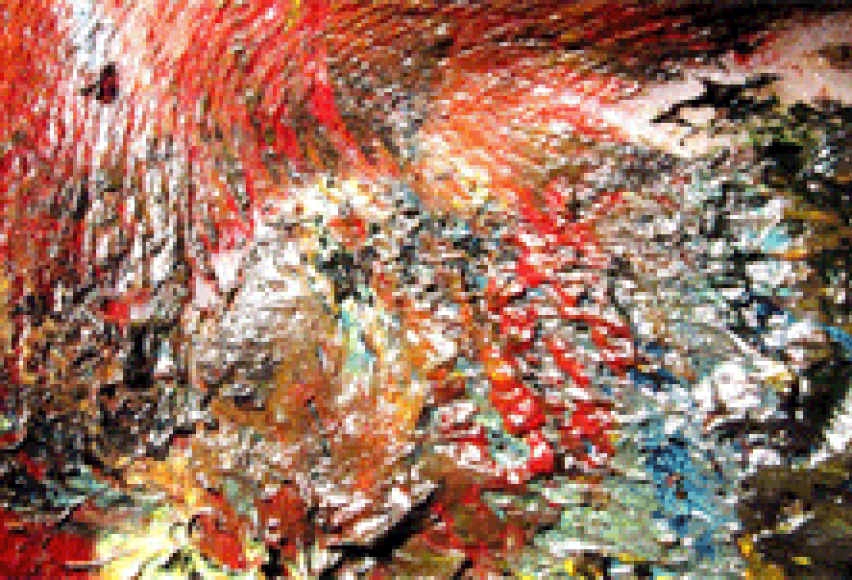 Liz Atkin is a London-based visual artist who has been challenged by skin picking disorder for more than 20 years. She spoke to BBC radio's Felicity Finch (interview starts at 35:15 into the recording) about her disorder and the impact her art has had on her journey to recovery. Liz grew up in an alcoholic home. She describes a childhood characterized by fear and anxiety and recalls hearing violent arguments between her parents. This may have been when the picking behaviour started to manifest itself.
Harnessing creative recovery
Liz has discovered the healing power of expression through art, dance and theatre, which she refers to as "harnessing a creative recovery". Through intimate artworks, photographs and performances, Liz has become an active advocate for Body-Focussed Repetitive Behaviours (BFRBs). Liz is open and outspoken about the distressing impact skin picking has had on her life. On her website, she talks about the intense guilt and shame people with skin picking feel about the harm they are causing to their bodies, and describes the secrecy and isolation that occurs from trying to hide the condition from family and friends.
Conveying a message through art
Felicity went to meet Liz in her London studio, where they discussed the inspiration behind her art. Liz talks about one particular photograph of a section of Liz's cheek and jaw and a small section of her mouth, with a huge piece of latex stretched right across from the neck to the other side of the photograph as though it is an extra piece of skin pulling away from her own skin. Liz explains that the image is meant to relay the horror behind the physically violent attack on her body she endured through skin-picking. Reflecting on her skin-picking behaviour, Liz describes how the act of picking would last several hours, on her face, chest, arms, and back and would create scabs. She remembers the lengths she went to, to conceal the scabs. She recalls how the scabs would often bleed while at school and show through her shirt and she would go to the restroom to wash out the blood. Felicity points out another image which she describes as a profile of Liz's face with rivulets of paint coming down the face that looks like tears. According to Liz, this image depicts the struggle between the feelings of anxiety and depression she felt. She wanted to create something that would convey the pain and helplessness, but also a sense of pulling away and trying to get better.
Impact of art on skin-picking
According to Liz, her art has helped her heal in a very huge and powerful way. She has been able to express very deep feelings that she previously did not have the language to express. Liz's battle against skin-picking is by no means over. However she now has a strategy for coping with it. She no longer allows the skin picking to spin out of control as in the past. She explains that creating artwork while she is unwell has been a huge and beneficial part of her recovery, because she uses the anxiety in a productive way rather than being completely swamped by it. She describes the behaviour as having been deeply shameful and something she really had to come to terms with. A huge part of her recovery was the revelation that she was free from shame and that she was not alone in her struggle with the condition. She describes the sense of freedom she feels in being able to wear the clothes she wants to wear even if it shows her scars. Liz talks about suffering for decades without knowing there were other people experiencing the same condition. She now views her artwork as twofold: it is art in its own right, but it is also about reaching out to people experiencing something similar and communicating a message of hope. Liz aspires to de-stigmatise skin-picking, raise awareness and advocate recovery.
Start your journey with SkinPick
Take control of your life and find freedom from skin picking through professional therapy and evidence-based behavioral techniques.
Start Now