Body-Focussed Repetitive Behaviours (BFRBs) Awareness Week: 1-7 Oct 2014

Body-Focussed Repetitive Behaviours (BFRBs) such as dermatillomania (skin-picking) and trichotillomania (hair-pulling) are common disorders, but are largely undiagnosed. As a result people who have these conditions suffer alone, ashamed, and in silence. The greatest travesty of this is that the loneliness and isolation can be prevented if there was greater awareness and acceptance of these disorders. In an age of social media and the accessibility of digital technology, raising awareness and accessing support is possible and available to more people.
Introducing BFRB Awareness Week 2014
Join the awareness raising revolution, help make a positive change for all affected by BFRBs by getting involved in the campaign, which runs from the 1 to 7 October 2014. One way to raise awareness is to get a BFRB awareness ribbon and wear it proudly. The green and blue ribbon has been adopted to represent this community and help us to connect to each other "in the real world".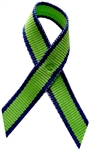 Displaying the ribbon will send out a visual message that you believe people with BFRB's need more resources for treatment, support, and medical recognition. One of the ways you can get a ribbon is through the very first BFRB organization worldwide, the Trichotillomania Learning Centre (TLC). TLC has provided support to thousands of sufferers across the globe and proceeds from these ribbons go back into the organization to continue funding research, resources, education, and support systems. Each ribbon costs $2.50 USD and can be purchased online from the TLC BFRB awareness store. The TLC website also lists other ways you can get involved through TLC events.
Spread the word
Social media is a powerful tool to get people talking and raise awareness. Help get BFRB trending on social media platforms such as Twitter, Instagram and Facebook by using the #BFRBawareness hash tag. One way of doing this is to change your profile or background images and banners. There are some great images available on the Canadian BFRB Support Network website. Show your support for Awareness Week by tweeting or sharing a photo on Instagram of yourself with the BFRB Awareness Sign, which can also be downloaded from the website.
Inspire Others, Give Hope
By telling your story to your friends and family, you can help dispel myths about mental health disorders, help eliminate stigma, and most importantly, help raise awareness about BFRBs and provide access to support. If you have been challenged by one of the BFRBs and have a positive story to share, why not inspire others and give hope by sharing your personal story. Getting together with like-minded people and helping others find community and support can also have a profound difference on one's own recovery.
Start your journey with SkinPick
Take control of your life and find freedom from skin picking through professional therapy and evidence-based behavioral techniques.
Start Now